The Cardano (ADA) Foundation continues to give back to the environment at a time when cryptos and Bitcoin (BTC) mining is a hot topic.
Cardano (ADA) was established back in 2015 as a research project, aiming to find ways to improve cryptocurrencies. Unlike Ethereum's (ETH) proof-of-work consensus, Cardano uses proof-of-stake. This is less power intensive and therefore more environmentally friendly.
Cryptos, crypto mining, and the environment have been big news in recent weeks. In the new year, news hit the wires of the Kosovo government having to ban crypto mining due to an energy crisis. The news from Kosovo was then followed by a communications blackout in Kazakhstan.
More significantly, however, was news of a U.S Congress sub-committee preparing a hearing to investigate the effects of cryptos and crypto mining on the environment.
As a result of last summer's decision by the Chinese government to ban Bitcoin (BTC) mining, U.S Bitcoin (BTC) mining hashrates have been on the rise. According to Cambridge Centre for Alternative Finance, the U.S accounted for 35.4% of the global hashrate in August 2021. In April 2021, the U.S had only accounted for 16.8%.
In terms of numbers,
The University of Cambridge estimated that Bitcoin (BTC) mining consumes 121.36 terawatt-hours (TWh) per year. Based on this estimate, if Bitcoin were a country, it would be a top 30 energy consumer.
According to estimates, Bitcoin (BTC) mining yields 22m to 22.9m metric tons of CO2 emissions each year.
In terms of global warming, Bitcoin (BTC) mining could push global warming above 2 degrees centigrade in less than 3-decades.
Cardano (ADA) Foundation Announces 1 million Tree Milestone
This week, Cardano (ADA) Foundation CEO Gregaard announced via Twitter that the #CardanoForest is 100% funded and that the foundation has reached its 1 million tree milestone.
While some cryptos are adding a burden on the environment, Gregaard pointed out that the Foundation, in partnership with Veritree, is "striving to position Cardano as a leader in climate impact".
The #CardanoForest will support land restoration and local ecosystem development activities in Mombasa, Kenya. Cardano's (ADA) blockchain will record of the trees planted. This enhances transparency and and also delivers proof of land restoration efforts.
Cardano (ADA) Price Action
At the time of writing, ADA was up by 3.56% to $1.164. While it's been a bearish start to the year for ADA and the broader market, price predictions for the year are bullish. In 2021, ADA had surged by 691% to end the year at $1.46. This was well below a September ATH $3.03, however.
While ADA is down by 11.31% year-to-date, ADA remains in the top 10 cryptos by market cap, according to CoinMarketCap. At the time of writing, ADA sat at #7, with a market cap of $38.98bn.
Near-term, a move back through December's high $1.592 would bring $2.00 levels and November's high $2.378 into play. Avoiding a return to sub-$1.00 levels will be key, however.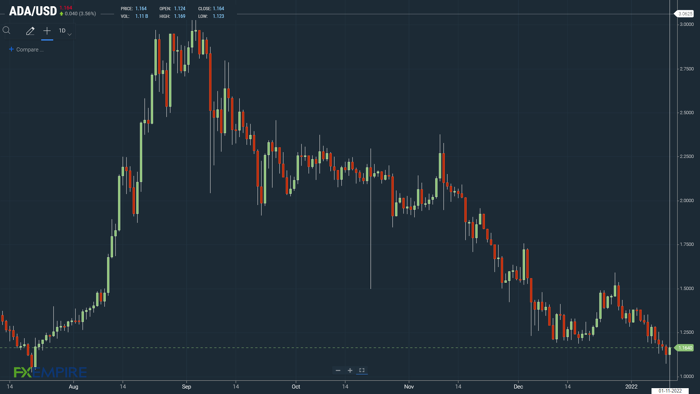 Leave a comment