Why can't investing in property be as simple as investing in the stock market?
Property Partner is a property investment platform which uses technology to remove traditional barriers to entry, making property investment accessible and simpler for all investors.
We facilitate every stage of building a diversified property portfolio by allowing investors to buy shares in individual
properties at the click of a button. We bring liquidity to an illiquid asset class, with the ability to sell shares in properties on our unique property trading exchange.
Return for investors is realised through regular monthly rental income paid in the form of dividends and any potential capital gains.
Authorised and regulated by the FCA.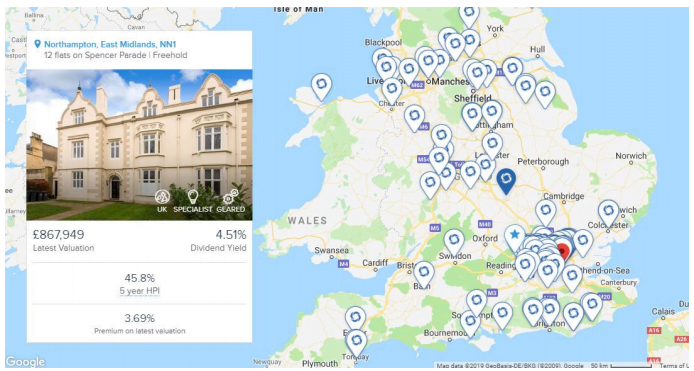 10,000 private investors managed through our online platform
£130m AUM: 110 property investments funded with £75m equity and £55m debt
Rental income: £7m paid in dividends
Liquidity: £40m shares sold on our unique trading exchange – a regulated "multi-lateral trading facility"
Award winning – Voted Best Property Investment Service two years running 2018 & 2019

World-class property team, who have a combined experience of over 130 years, 34,000 units and £9.35 billion.
Team led by one of the UK's top property investment experts Robert Weaver.
Formerly Global Director of Residential Investments at the Royal Bank of Scotland(RBS).
Ran a £500m residential fund as Head of Residential Funds at Invista Real Estate.
Fellow of the Royal Institution of Chartered Surveyors (RICS).
Member of the residential committee of the British Property Federation.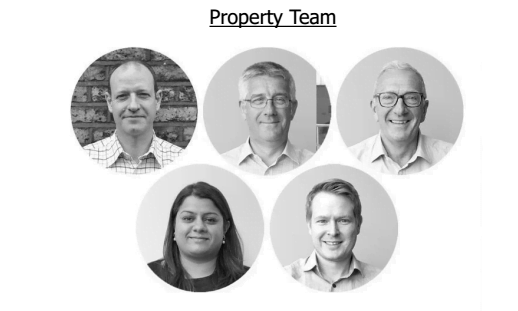 Our team of property experts have built a diversified portfolio of high quality UK property investments that compromise 1012 units. The asset classes available for investment are residential, commercial, and purpose-built student accommodation. Investors can also invest in development loans. Assets are selected according to strategic criteria, e.g. growth, yield, long term income and are subject to thorough due diligence before acquisition.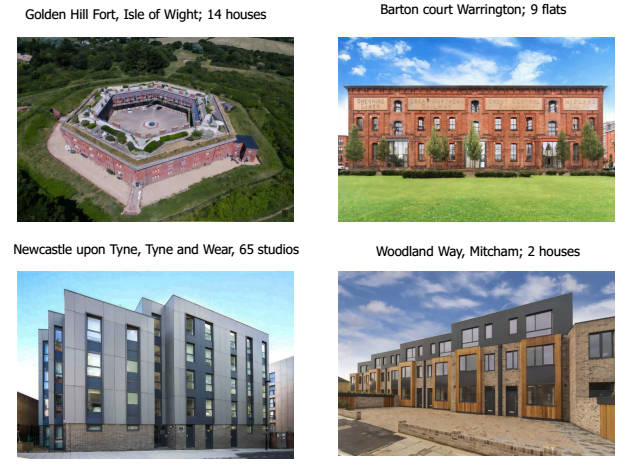 Pick individual properties – Any new properties currently funding, or any property actively trading on the exchange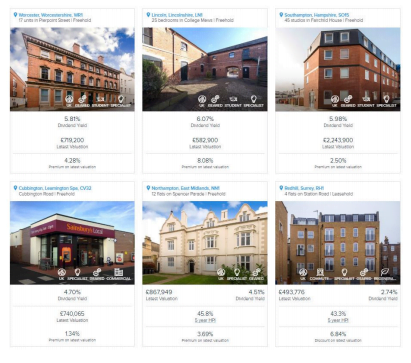 Pick an investment plan – Choose an investment strategy and we will deploy funds on your behalf into different properties across the UK according to your chosen strategy.

Our unique stock exchange for property enables investors to buy & sell shares in individual properties 24/7. There are 100+ properties across the UK currently trading on the exchange. £40m shares have traded to date. Set bids and offers at chosen trading prices, which can be matched at any time. All of the residential properties are valued every six months, and student and commercial properties every 12 months, by an independent RICS chartered surveyor to help inform trading decisions. Regulated as an "MTF" (multilateral trading facility) – all trades reported to the FCA daily.
If you're looking to invest more than £25,000, you could qualify for our premium services.
➢ 0% transaction fee on new listings
➢ Early access to investment opportunities
➢ Bespoke investment plans
➢ A personal account manager
➢ Invitations to exclusive events offering access to our expert property team.


Capital at risk. The value of your investment can go down as well as up. The Financial Services Compensation Scheme (FSCS) protects the cash held in your Property Partner account, however, the investments that you make through Property Partner are not protected by the FSCS in the event that you do not receive back the amount that you have invested. Past performance is not a reliable indicator of future performance. Forecasts, if stated, are not a reliable indicator of future performance. Interest and capital returned may be lower than expected. Gross rent, dividends, and
capital growth may be lower than estimated. 5 yearly exit protection, exit on platform or exit in line with Opportunistic Fund strategy, subject to price and demand. Property Partner does not provide tax or investment advice and any general information is provided to help you make your own informed decisions. Customers are advised to obtain appropriate tax or investment advice where necessary. Financial promotion by London House Exchange Limited (No. 8820870); authorised and regulated by the Financial Conduct Authority (No. 613499). See Property Partner Key Risks
on propertypartner.co for further information.



Leave a comment